The Tampa Bay Chapter is a volunteer-driven community effort that needs committed people like you. Together, Chapter members identify and assess needs in our community and design impactful promises to meet those needs. It can be something as simple as committing to a certain number of hours cleaning up a neighborhood park, to volunteering to help a local nonprofit's ongoing efforts, to larger projects like establishing a mentor/tutor program to support children/students in need or establishing a self-sustaining program to help fund a homeless shelter.

The Tampa Bay Chapter acts as a central hub for Chapter members in the community to support living honorable lives through bettering humanity in the Greater Tampa Bay Area and beyond.

Attendees to Chapter Meetups must be 18 years or older.

Parking: Approximately 40 HCTA parking spaces are available immediately surrounding the building and additional parking is available across the street along the fence line at Lou Piniella Field @ Capaz Park, 2700 W Aileen St, Tampa, FL 33607 (corner of N Habana Ave and W Aileen St). For more information on Capaz Park, please call (813) 274-7732.

Disabled Parking: HCTA has two designated spaces on the corner of N Habana and W Kathleen and an additional two spaces in the parking lot adjacent to the back (west) side of the building. HCTA's elevator is located outside just to the left of the front entrance on N Habana Ave.

Entering HCTA: Please enter through the front door (located on N Habana Ave.) and proceed up the stairs to the 4th Floor meeting room.

Because I said I would is a 501c3 non-profit. Our mission is to strengthen humanity's will. Because I said I would encourages and supports making and keeping promises to end suffering, establish peace and build happiness. We created the Promise Card to help hold people accountable to their commitments. Please join us as we change Tampa Bay and the world for the better!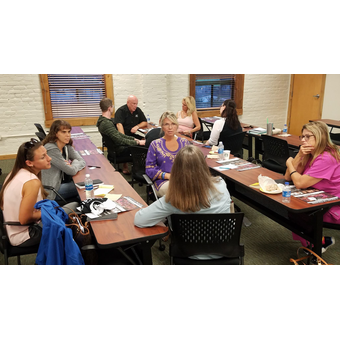 Hillsborough Classroom Teachers Association- 3102 N Habana Ave, Tampa, FL 33607, USA