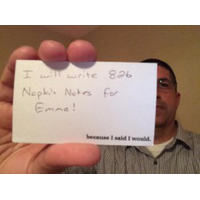 Our Next Chapter Meeting

When:

Tuesday, December 6th at 6:30 PM - 8:30 PM. The meeting will start promptly at 6:30 PM. We recommend arriving at 6:15 PM to allow time to sign in.

What:

The December meeting of the Tampa Bay chapter of because I said I would. There is no cost to attend, but seating is limited.

Who:

You! This meeting is open to the public, 18 years and older. Colonel Parker Schenecker will lead the chapter meeting.

Where:

Hillsborough Classroom Teachers Association (HCTA), 3102 N Habana Ave, Tampa, FL 33607. Driving directions on Google Maps. For more information on parking, please click the RSVP link below.
On November 15th, we presented on this month's learning topic of word choice. We were able to have a great discussion on how words affect our ability to make and keep promises.

In our culture, our words and sayings are not always literal.However, when it comes to a promise, it is important to be as literal as possible. "Always," "never," or "everything I can do," are examples of poor word choice that may lead to broken promises. In the meeting, we practiced writing our promises for the month using more specific language.
Guest Speaker: Garth Callaghan

Garth Callaghan, better known as Napkin Notes Dad, attended our Tampa Bay chapter meeting to share his story with us as our featured promise story.

Garth has been writing napkin notes for his daughter Emma since she was in the second grade. They are just a few words of encouragement, but in the busyness of their separate days at work and school, it's a moment when they can connect. This tradition inspired Garth to make a promise to his daughter, in a moment of tragedy.

When diagnosed with cancer, Garth made a promise to write 826 napkin notes for Emma, to guarantee his daughter would have a napkin note for each day of school, no matter his prognosis.

A big thank you to Garth for sharing his amazing story with us.

Want to see more stories like this from the movement?

Like our facebook page and check out more
At this month's chapter meeting members were encouraged to participate in November's unified promise by writing a thank you letter during our meeting.


We asked attendees to think of someone in their life that has shown commitment to them or an important cause. They then reached out to them to get their address, so we could write a thank you letter and mail it to them.


Sometimes the smallest thank you can have a large impact. Commitment is important and deserves to be recognized.

If you were unable to make it to this month's meeting, but would like to participate we encourage you to take a few moments to write and mail a thank you to someone you know.
Tampa Bay Leadership Needed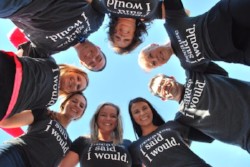 We are still looking for volunteers to help fill leadership positions for the Tampa Bay Chapter!
Help establish and maintain community partnerships

Manage leadership team

Public speaking and meeting management

Fill in the gaps
Organize volunteer efforts

Research charitable opportunities

Collaborate with other nonprofits

Manage projects and task lists

10 hours-a-month commitment
Pick up food and supplies

Arrange for printed materials

Meeting set up

Event coordination
Promote chapter through partnerships

Manage social media page

Event marketing
---