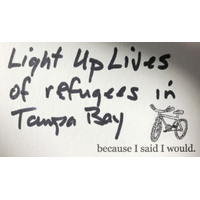 OUR DEC 2016 CHAPTER MEETING

Meeting Date/Time/Location: 6 Dec 2016; 6:30-8:30pm; Hillsborough Classroom Teachers Association (HCTA), 3201 N Habana Ave, Tampa FL. Meeting #8 at this particular location. Remains a fantastic location for an Echo meeting. Next 6+ meetings scheduled for same location. Will consider alternating meeting locations between Tampa and St Pete if it helps membership, but no complaints at this time by attendees.

Attendance: 3 new Tampa Bay attendees.

Educational Topic: The Stress of Promise Keeping, presented in HD video. (See below).

Next month's topic: The History of New Year's Resolutions.

Book Giveaway: Great opportunity to share the story of Eva Mozes Kor, one of our followers and a Holocaust survivor.

Recognition: All members who have attended their second meeting have been recognized with a because I said I would badge.

Individual Promise/Accountability: Members shared their individual promises; there was great feedback from the membership to help individual members improve their accomplishment rate.

Unified Promises:

Dec: "Light Up Lives of Tampa Bay Refugees" – Bike Drive to support refugees in Tampa Bay. (see below).

Jan: Habitat for Humanity house build. 21 Jan; location TBD (pending Habitat's work completion schedule).
THE STRESS OF PROMISE KEEPING

We presented ways to take inventory of individual stressors (both positive and negative) and discussed some exercises to manage stress. We were able to have a great discussion on how stress affects our ability to make and keep promises and how sometimes the making and keeping of promises creates stress in our lives.

We offered the results of Holmes and Rahe Stress Scale to help our members take inventory of the potential stressors in their lives to identify just how much stress they me currently experience.
A PROMISE TO SURVIVE: EVA MOZES KOR

We shared the story of Eva Kor, a Holocaust survivor, who along with her twin sister Miriam, were sent to the concentration and extermination camp in Auschwitz. She and her sister suffered horrible abuse at the hands of Dr. Josef Mengele during their time in Auschwitz, but Eva made a promise to her sister that she would survive the horrible suffering in Auschwitz. Eva's promise came true and eventually Eva and Miriam would be liberated from Auschwitz by Soviet forces.

Eva would eventually start Indiana's only Holocaust Museum, and authored a book on her experiences.

Eva Mozes Kor is a true inspiration, having suffered unthinkable abuse and torture by one of the most notorious criminals of all-time and coming to a point where she was able to forgive and help heal emotional wounds from arguably the darkest time in modern history.

Thank you, Eva for sharing your story.

Want to see more stories like this from the movement?

Like our Facebook page and check out more
"Compassion is the basis of morality."

According to the Florida Department of Children and Families, Florida has the largest refugee population in the US. While most originate from Cuba, we have refugees and families from across the globe and they come to the US seeking shelter, protection, peace, asylum…basically a better existence (or a "light at the end of the tunnel") for themselves and their children. Most refugees in our area are in dire need of many basic items that we take for granted.

Because I said I would challenged the chapters to find meaningful ways to support refugee populations in our respective communities. The Tampa Bay Chapter members decided to "light up the lives" of local refugees, and in conjunction with Tampa Bay refugee support service providers, the Tampa Bay chapter sponsored a Bike Drive to help provide a much needed commodity (basic transportation) for some of our refugee families.

We gathered over 30 bikes (new, used, adult and kids') and provided those to the local Refugee Service provider (Lutheran Services Florida) for immediate distribution to refugee families on their extensive waiting list. Many thanks to the team at Oliver's Cycle Sports for their donation of 10 bikes and their commitment to helping us repair some of the bikes that were "loved a little more than some others".

But we didn't stop there – we purchased and installed LED light kits on many of the bikes in order to "light up the lives" of the recipients…that way, they can literally have a brighter path as they further settle in our communities.
TAMPA BAY LEADERSHIP NEEDED

We are still looking for volunteers to help fill leadership positions for the Tampa Bay Chapter!
Help establish and maintain community partnerships

Manage leadership team

Public speaking and meeting management

Fill in the gaps
Organize volunteer efforts

Research charitable opportunities

Collaborate with other nonprofits

Manage projects and task lists

10 hours-a-month commitment
Pick up food and supplies

Arrange for printed materials

Meeting set up

Event coordination
Promote chapter through partnerships

Manage social media page

Event marketing
CLICK HERE TO VIEW ALL POSITIONS
---